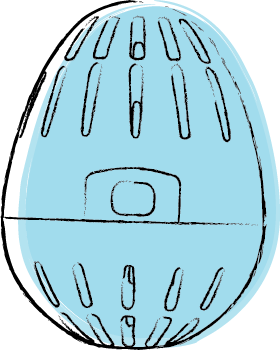 With ecoegg Laundry Egg, the environment comes first
When it comes to research and development, Ecoegg is continually keeping the environment at the forefront. Ecoegg is continuously researching ways to reduce single-use plastic and lessen the environmental impact. 
Minimising plastic usage
The mineral pellets inside of the ecoegg Laundry Egg do not contain any harmful chemicals. By using the ecoegg Laundry Egg, you are not only saving money and reducing single-use plastic, but you are preventing dozens of chemical-filled washing detergent containers from polluting our water systems each year. 
Our leading product, the ecoegg Laundry Egg, is refillable with the eco egg Laundry Egg pellets which means you can avoid buying 20 bottles of detergent and fabric softener each year.
Created from eco-friendly materials
The Laundry Egg case comes in a BPA free and recyclable case. The ecoegg pellets do not contain any palm oil, SLS or SLES, parabens, petrochemicals, enzymes, phosphates or microplastics.
Our packaging is FSC approved from sustainable sources and is recyclable. Our print comes from vegetable-based inks, which contain no petrochemicals.
Discover the ecoegg Laundry Egg
®

today…